OUR HISTORY
Who was Archbishop Coleman Carroll?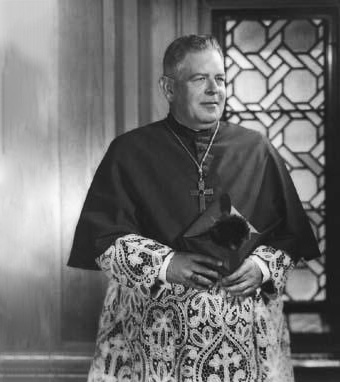 Coleman Francis Carroll (February 9, 1905 – July 26, 1977), was the first Bishop and later Archbishop of Miami, Florida. He was the second of three children. His parents were both born in Ireland, and his father, who worked as a railroad brakeman and clerk for Carnegie Steel Company, died in 1922. Coleman Carroll was ordained a priest in 1930 in the Diocese of Pittsburgh. He served as a parish priest in the Diocese of Pittsburgh until 1953.
On August 13, 1958, Pope Pius XII appointed Bishop Carroll the first Bishop of the newly created Diocese of Miami. This occurred just two months before the death of Pius XII. He would be installed with the founding of the diocese on October 7, 1958.
At this point, the Diocese of Miami included the sixteen lower counties in Florida, with a population of only 200,000. Encompassing one half of the state, he laid the foundation which would allow the Catholic church to grow in Florida. He led the diocese through the influx of thousands of Cuban refugees, the American Civil Rights Movement, Vietnam and the reformations of the Second Vatican Council.He created the Catholic Service Bureau, now known as Catholic Charities, to serve as a social network that to this day rivals that of the State of Florida.
In 1968, due to an increasing population, the decision was made to divide the Diocese of Miami. Miami would be made an Archdiocese by Pope Paul VI and be named Metropolitan See for all of Florida. In response, Coleman Carroll became an Archbishop on March 2, 1968.
Less than ten years later, Archbishop Carroll took ill. In response, Bishop Edward McCarthy from the Diocese of Phoenix was appointed Coadjutor Archbishop of Miami in 1976. Ten months later, on July 26, 1977, Archbishop Carroll died. Upon his death, Carroll was automatically succeeded by Edward McCarthy as Archbishop of Miami. He was buried three days later in Our Lady of Mercy Cemetery in Miami.
At the time of his death, the Archdiocese of Miami had grown to encompass 700,000 Catholics within eight counties.
In 1994, in the final year of his tenure, Archbishop Edward McCarthy started the process of construction for a new high school in southwest Miami-Dade County. Opened in August 1998, the facility was dedicated by Archbishop John C. Favalora in honor of the founder of the Archdiocese. Archbishop Coleman F. Carroll High School continues to uphold the motto of its namesake, "First the Kingdom of God".
Mission and Values
Archbishop Coleman F. Carroll High School, a college-preparatory institution, educates in a Christ-centered environment, forming students to reach their intellectual, physical, social, and spiritual potential. We cultivate in our students a foundation of truth, goodness, and self-disciple, preparing them to be contributing members of the Church and society.
Our vision is to provide an outstanding Catholic, college-preparatory education for a diverse student body which is characterized by academic excellence, Christ-centered environment and family spirit.