Educational Environment and Accreditation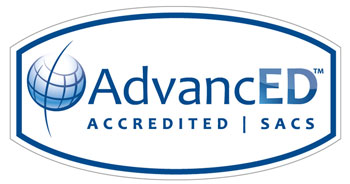 Archbishop Coleman F. Carroll High School is a fully accredited, Archdiocesan, Catholic school founded in 1998 in Miami, Florida. Our school is accredited through the Southern Association of Colleges and Schools. This means that we follow all the necessary requirements and regulations, and a high school diploma from Archbishop Coleman F. Carroll High School will be recognized by universities and colleges.
Archbishop Coleman Carroll High School employs or contracts teachers who hold baccalaureate or higher degrees, have at least 3 years of teaching experience in public or private schools, or have special skills, knowledge, or expertise that qualifies them to provide instruction in subjects taught.
Administered by the Carmelite Sisters, the school provides a co-educational, college-preparatory program in a Christ-centered environment which forms the students intellectually, emotionally, physically, and spiritually. The varied curriculum meets the needs of a diverse population, fostering academic excellence, leadership, self-discipline, integrity, and faith values.
The dedicated faculty and staff embrace the school motto:
A College Preparatory & Visual and Performing Arts School (Seek First the Kingdom of God) while fostering a family spirit, providing a safe, structured, caring and supportive learning environment.